Branding Notebooks : 5 Hot-Saled Promotional Notepads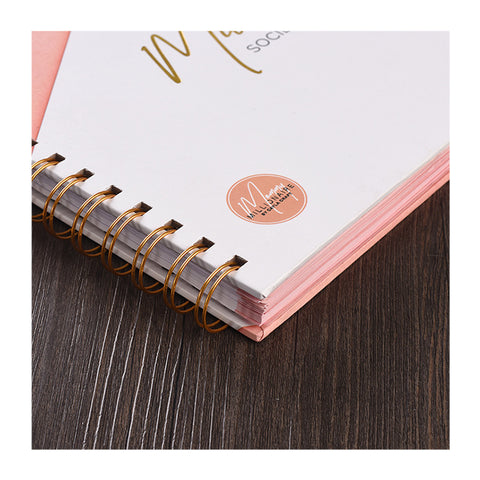 As a popular customized item, Branding Notebooks turn into one of the greatest promotional items. All types of business owners love customize his own Branding Notebooks by slogan. Moreover, the page and page's head will be customised by contents. So you could display your company's products informations through integrated text and print. The custom gift could be a best way to interact her business thinking.
As a integral a Branding Notebooks manufacturer, Anda Custom already devoted ourself to vend Branding Notebooks from the date of establishing in 2002. Moreover, Anda notebook was produced many kinds of Branding Notebooks which satisfies various custom idea.
By this section, he readies to list 5 Beautiful Branding Notebooks with Anda Stationery.
ADNB2008 Spiral Branding Notebooks . Actually, the Branding Notebooks is ready to be custom-made through gift box or notebooks page is custom-made as well. The custom notebook possess 54 sheets of 105 g eco-friendly paper. Selecting from 8 colors, these custom journals with logo get a number of planners for your information.
ADNB6620 Recycled Notepads . The Branding Notebooks is printed from cover and the inner page is customized. It will made by 62 sheet as well. This diary should be a good gift for your business partner, ture?
ADNB2317 Spiral Branding Notebooks . As you see, the Branding Notebooks could be printed with inner pages , at the same time, the inner page is ready to be imprinted. By producing a ring, the receiver can put a semi-gel pen on the journal and it will appear advanced.
ADNB5616 Leather Branding Notebooks . Actually, the Branding Notebooks could be customized by gift box and the inner page can be custom-produced. The diary has four patterns for information. With A5 paper, it could be useable for your writing.
ADNB9825 Leather Branding Notebooks . The Branding Notebooks could be printed through cover , at the same time, the pages is customised. With the plastic cover, this journal maybe useable for your carry on.
For customization options, we can print the branding on covers and the inside page could be personalized . we can take five options: Color Imprinting; Gold and Silver Foil Imprinting. Certainly the options are free of charge. About Branding Notebooks with custom-made pages, lots of clients plan to make team's brochure on the first page and customers will put up company products.