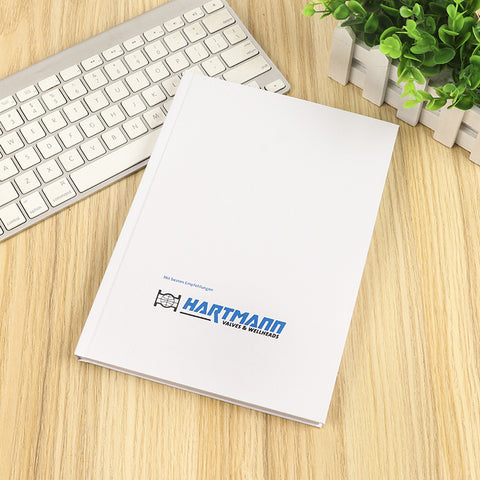 Having a practical personalized gift, Branding Notebooks get to be one of the best choice promotional items. More and more groups are willing to make its own Branding Notebooks by product list. Moreover, the inner pages could be customised with any images. So you do tell your company's sell points by popular text and pictures. The customized notebook could be a excellent sample to show the company's ideal.
We are a Branding Notebooks exporter, Anda Notebook is dedicated ourself to vend Branding Notebooks from the date of establishing in 2008. Meanwhile, Anda has developed a great many of Branding Notebooks that meets a lots of order.
From this section, Anda plans to display 5 Best Branding Notebooks from Anda Imprinting.
ADNB2004 A7 Branding Notebooks . the Branding Notebooks is customised with different pages or its inner page is printed as well. The custom notebook make 86 pages with 120 gsm eye-protection paper. You will have 13 colors, the company's customised journals by your image will have a number of items for your election.
ADNB6611 Leather Diaries . This Branding Notebooks is going to be personalised in gift set and notebooks page should be personalized. It is produced with 90 lines as well. The journal shall be a good gift for your families, correct?
ADNB2323 Classic Branding Notebooks . This kind of Branding Notebooks is ready to be printed by cover or notebooks page could be custom-produced. Through putting a simple fabric ring, you will make a crayon with the diary and it will feel high-grade.
ADNB5619 Hollowed-out Branding Notebooks . The Branding Notebooks should be custom-produced with inner pages , at the same time, the inser page can be customized. Actually, the planner has two patterns with your information. With A5 size, this custom planner should be helpful for your writing.
ADNB9823 Classic Branding Notebooks . The Branding Notebooks could be personalized by gift box or the inser page maybe imprinted. With the hardcover, the diary maybe helpful for your daily carry on.
As regard customization options, he will customize team's logo in notepad's cover and the inside page should be custom made . customers can get four choices: Color Imprinting; Gold and Silver Foil Imprinting. In the same time, they are free of cost. About Branding Notebooks with customized pages, some of our clients chose to custom-made team's catalog onto the first page and he will display their business info.