Custom Notepads No Minimum , Brilliant traditional imprinting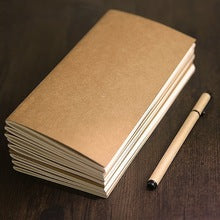 Selling great gifts for employees, custom notepads with no minimum requirements are becoming one of the best corporate projects. Various businesses use the "No Minimum" slogan to produce their own custom notepads. Also, its pages can print anything in color. Therefore, you can express your company's product specifications through simple words and images. This will be the best way to interact with the meaning of the team's brand.
As a manufacturer of custom notepads with no minimum requirements, Anda has been committed to providing custom notepads with no minimum requirements since its establishment in 2006. diversification. Customer demand.
In this paragraph, the author plans to offer you 5 top custom notepads with no minimum requirements at Anda Imprinting.
ADNB2007 Hollow Custom Notepad has no minimum requirements. This custom notepad with no minimum requirements will be personalised from the inner pages and can be personalised. Our personalised journals come on 90 x 120 gsm paper. You will have 14 types of personalised notebooks with logos and many journals for your reference.
ADNB6614 Leather Notepad. A custom notepad No Minimum can be printed in a gift box and the inner pages can be personalized. Anda's Classic Notebook also has 96 papers. This product could be a great gift for a customer, right?
ADNB2318 Fashion Style Custom Notepad No Minimum Requirements. Custom Notepads No Minimum will be personalised with gift sets, and at the same time, notebook pages are ready to be customised. With a kind of elastic ring we can put a gel pen on the planner and it will look nice.
ADNB5619 Leather Custom Notepad No Minimum Requirements. Custom Notepad No minimum requirements Can be customized through headers or notebook pages. This planner has three designs for your reference. The magazine has A7 paper, which can be used for writing.
ADNB9827 Color Custom Notepad No Minimum Requirements. There are no minimum requirements for this custom notepad. It should be customizable via the pen and the notebook page is ready for customization. With a plastic case, the laptop can be used for everyday carry.
For the custom option, customers can print the team's slogan on the cover and can customize the page. Customers can choose from six options: hot stamping and silver stamping; color stamping; blind embossing. Plus, 100% off custom options. For notepads with custom pages, many customers plan to put their product listings on the front page, and customers can then introduce the products to the company.