Custom Journals : Excellent quality present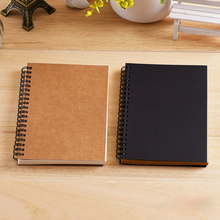 For premium promotional products, custom journals are one of the best options for business projects. Many buyers like to create their own custom log with a logo. In fact, the page will be personalized with any image. So you should present your product information through comprehensive text and images. Journals are a great way to showcase your team's brand.
Since its establishment in 2010, Anda Imprint, as a supplier of customized journals, has been committed to producing customized journals. Anda Notebook researches various types of customized journals to meet the needs of different clients.
The company will list 5 of Anda's most popular customized journals through article customization.
ADNB2004 A7 Custom Log. As you can see, custom journals are ready to be customized with different pages, and pages can be customized. It is custom made with 72 stock and 115 gsm recycled paper. These custom planners with logos are customizable in 11 styles and have tons of items for your reference.
ADNB6620 Classic Notepad. Customized journals can be printed with gift sets or notebook pages will be customized. Our personalised journal also has 86 pages. Could this planner be a gift to the client?
ADNB2316 A7 Custom Log. Customized journals can be customized gift sets, and notebook pages can be customized at the same time. By placing a nice fan, they can put a pencil on top of the journal and it looks great.
ADNB5610 A7 Custom Log. This custom log should be printed in color and the pages may be embossed. This planner is available in two sizes for your reference. Using A7 paper, the notepad must fit your writing.
ADNB9823 Helix Custom Log. Custom journals can be personalised with gift sets and pages will be customised. With a hardcover, this planner can come in handy in your daily work.
Personalization options, you can print a group slogan on the journal cover, and the inner pages can also be customized. He can choose from six options: color imprint; foil embossing; blind embossing. Of course, the customization options are free. For the customized version of the journal, many people intend to put the business introduction on the front page, so he has to express his product details.